As Hurricane Dorian continues to gain strength and has its aim at Florida; new home buyers should act now when it comes to locking in their insurance policy.
During major storms; insurance carriers will put in a moratorium on all new policies, which means buyers scheduled to close on their new property, won't immediately be able to get new quotes or bind existing quotes.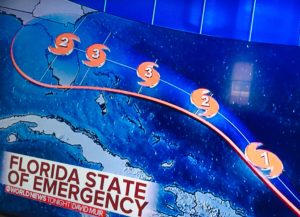 "During a tropical storm/hurricane watch, carriers shut down. Bind while you can before it's too late." said Frantz Jean-Baptiste, We Insure Agency Owner in Pembroke Pines, FL.
For all Realtors; Jean Baptiste adds: " If you have any clients with a pending insurance policy (especially with a mortgage) advise them to purchase their homeowner's insurance policy now before things escalate."
Florida Gov. Ron DeSantis declared a state of emergency and is urging residents to take precautions as Hurricane Dorian strengthens in the Caribbean on a path to Florida's eastern shore. The National Hurricane Center says the Category 1 storm could grow into a dangerous Category 3 hurricane as it swirls toward Florida. While the storm's track remains uncertain, officials say people should stock up on at least a week's worth of food and water, but be prepared to evacuate when advised.
As real estate professionals; it's our duty to inform our clients of any looming emergencies; and Hurricane Dorian is just another reminder to always stay on top of rules and regulations that can affect our buyer or seller's interest.